Regular price
$64.98 USD
Sale price
$59.99 USD
Unit price
per
Sale
Sold out
100% Money Back Guarantee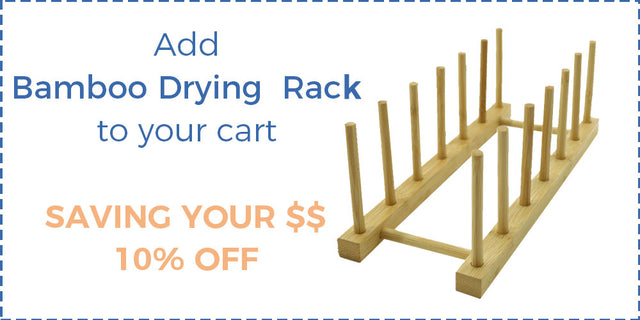 View full details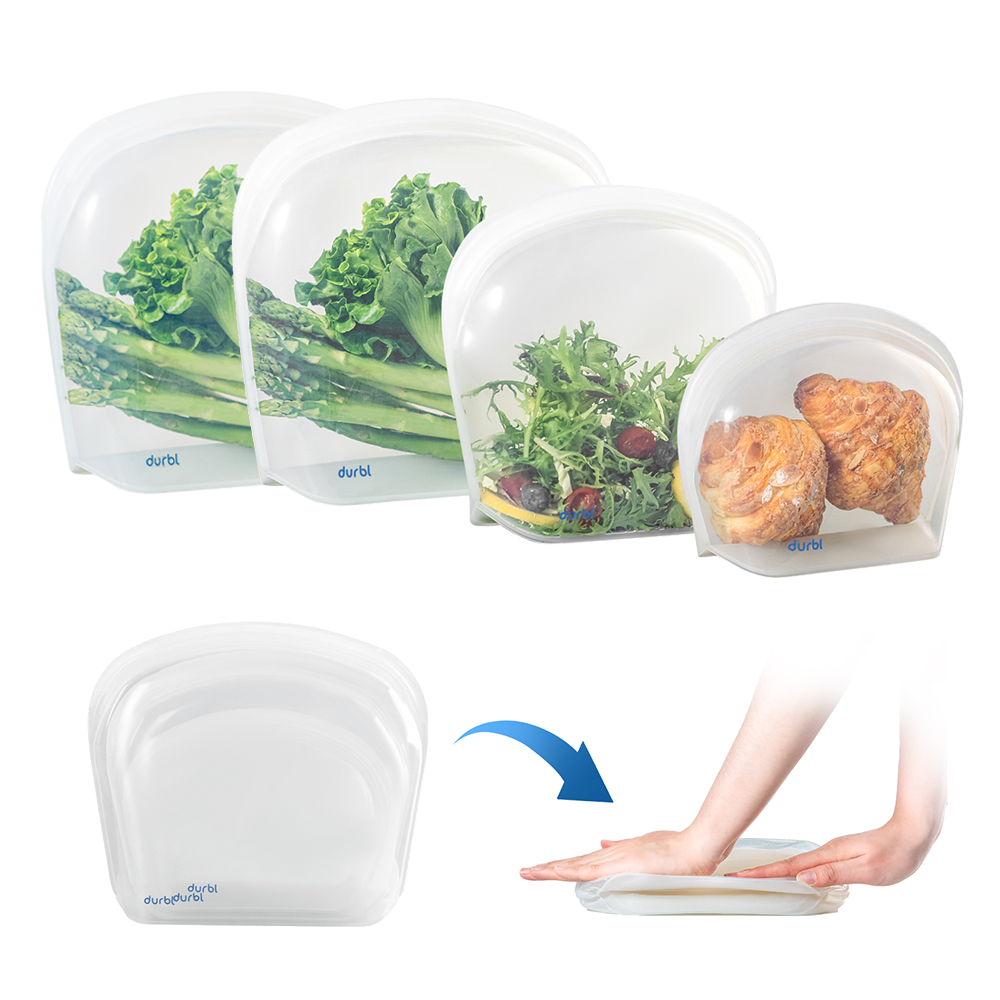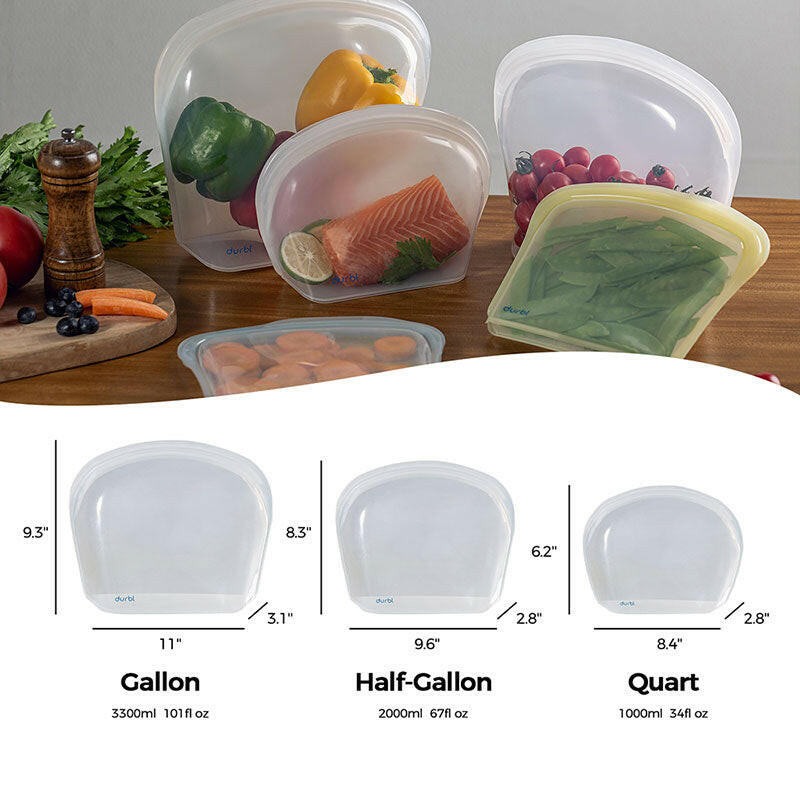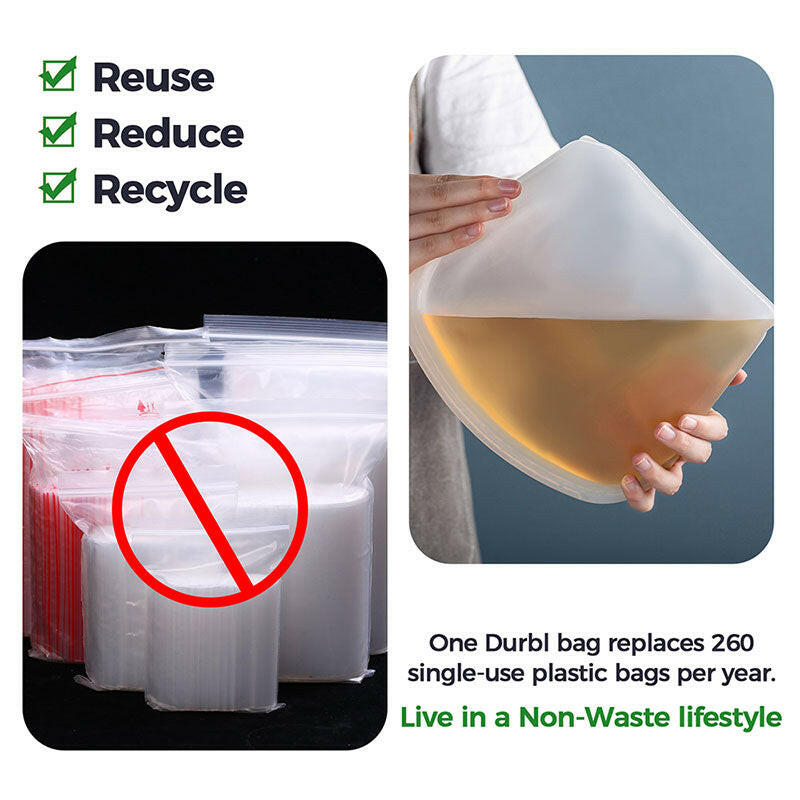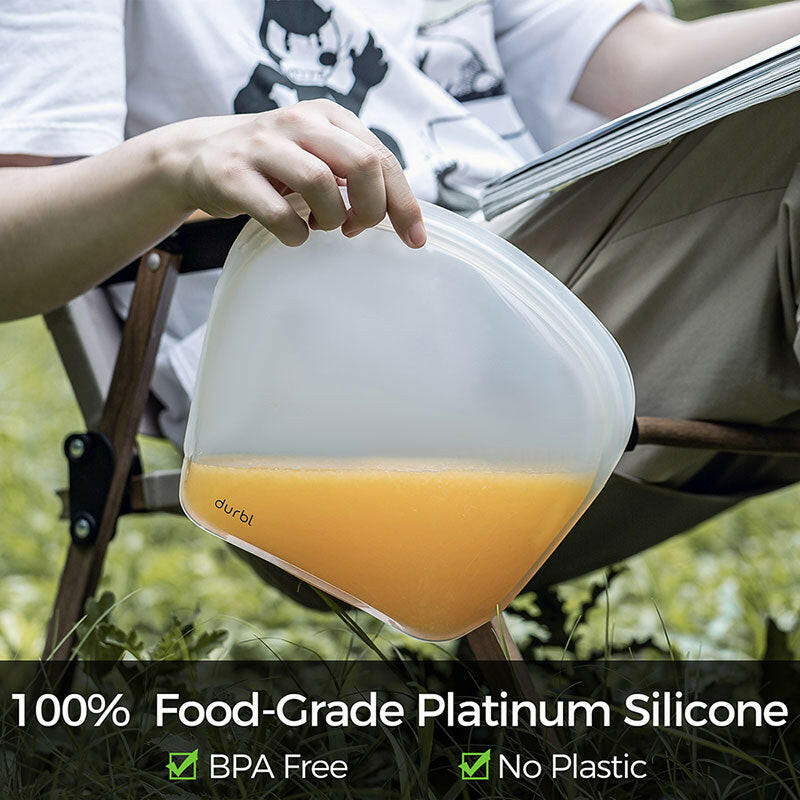 Upgrade your loved Durbl Folding bags. This pack is perfect for you if you are looking to purchase Gallon 2023 & New Set (Set of 3). More uses, Less waste. Believe your life idea is in line with Durbl. You'll automatically save 8% with this bundle. 

【BUNDLED FOLDING KIT 4-PACK】 Durbl platinum folding standing silicone bags set that includes;

  1pcs Quart: 8.4*2.8*6.2'';  34 fl oz / 1000 ml;  5.64 ounce
  1pcs Half-Gallon : 9.6*2.8*8.3''; 67 fl oz /2000 ml; 7.05 ounce
  2pcs Gallon 2023: 11*3.1*9.6 ''; 101 fl oz /3000 ml; 9.17 ounce
【USER-FRIENDLY DESIGN】 With a folding bottom design, these user-friendly zipper bags can stand and stay upright, which is wonderful design. The rounded body and curved opening make it easier for food to fit in. It is also easier to clean and dry.
【MULTI-PURPOSE】 Perfect containers for food storage (lunch,snack,sandwich,etc), home organize, travel (make-up, travel toiletries etc), outdoor picnics.
【TEMPERATURE RESISTANT & PORTABLE】These reusable silicone food bags are designed to tolerate heating and freezing conditions. The temperature resistant is -80℉~450℉.This means our reusable silicone bags make ideal freezer bags as well as reusable sous vide bags.
【OUR PROMISE】If you don't love your silicone bags for food storage, simply let us know what the issue is with your reusable food storage bags and we'll do whatever we can to make things right. No fuss, no tricks, no fine print; just incredible customer service from durbl.
Here are the reviews from our real customers:
Shapes and Sizes for All Your Needs !
Size: 8 * 4.9''

Capacity: 13 fl oz /400ml

Weight: 3.35 ounce

Size: 8.4 * 7.1''

Capacity: 27 fl oz /800ml

Weight: 3.88 ounce

Size: 8.4 * 2.8 * 6.2''

Capacity: 34 fl oz /1000ml

Weight: 5.64 ounce

Size: 9.6 * 2.8 * 8.3''

Capacity: 67 fl oz /2000ml

Weight: 7.05 ounce

Size: 11 *9.6 * 3.1''

Capacity: 101 fl oz /3000ml

Weight: 9.17 ounce

Container 400ml

Size: 3.4*3.4*2.5'' (4.7*4.7'')

Capacity: 14 fl oz /400ml

Weight: 4.85 ounce

Container 600ml

Size: 3.9*3.9*2.8'' (5.3*5.3'')

Capacity: 21 fl oz /600ml

Weight: 6.60 ounce

Container 900ml

Size: 4.5*4.5*3.2'' (6.1*6.1'')

Capacity: 32 fl oz /900ml

Weight: 8.70 ounce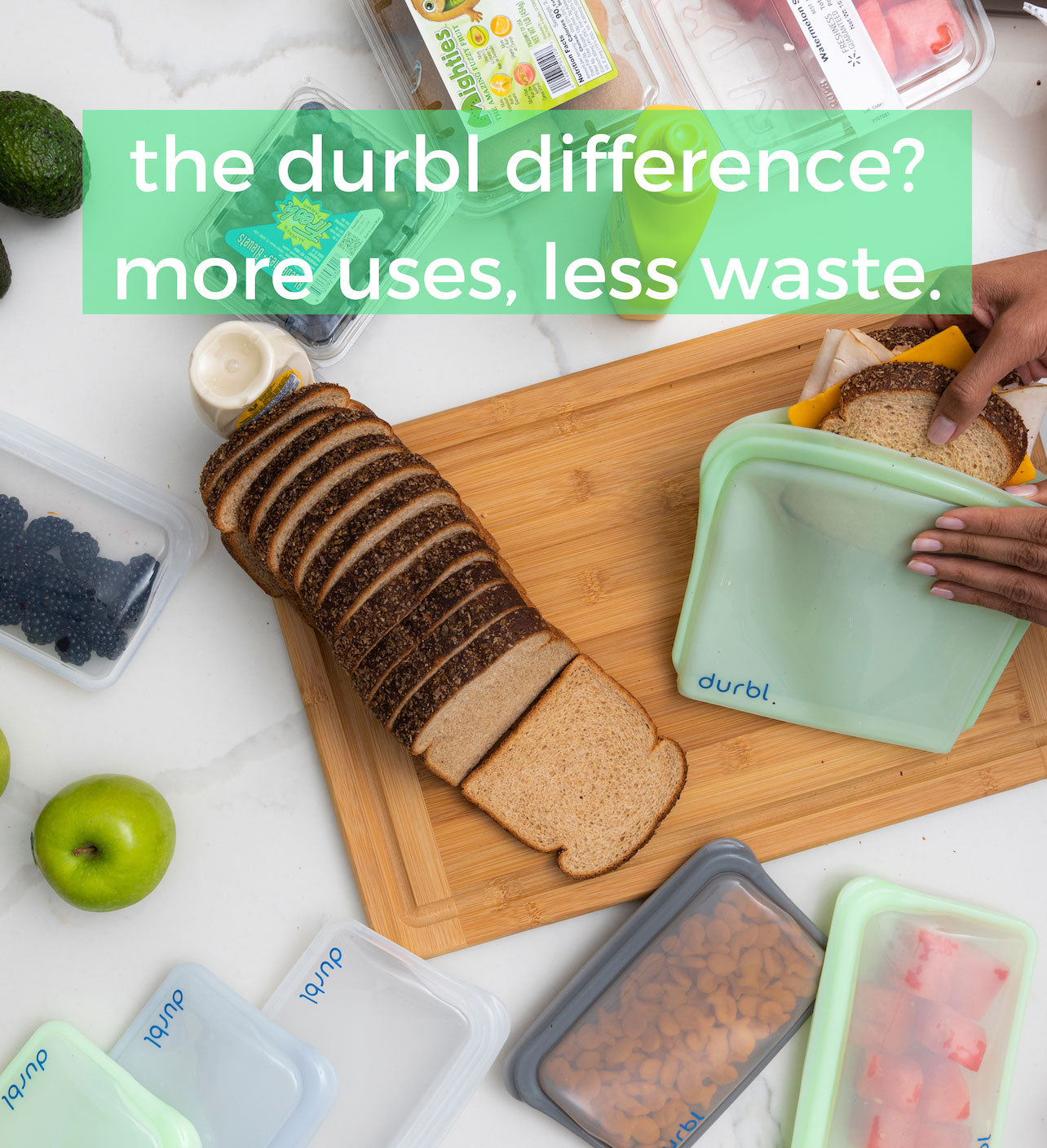 Did you know the average storage bag is tossed after just 15 minutes of use?
Durbl bags are designed to be used again and again. Use a Durbl bag to store strawberries, pop the bag in the dishwasher, and then use it again to store your makeup.

Unlike traditional storage bags that can leak hormone-disrupting and even cancer-causing chemicals, Durbl bags are safe. They're the only storage bags made with a single piece of platinum silicone, no glues or chemicals to keep them together.

In short, they're thoughtful, clean, and smarter (just like you).
READ OUR STORY
Regular price

Sale price

$47.99 USD

Unit price

per

Regular price

Sale price

$43.99 USD

Unit price

per

Regular price

Sale price

$20.99 USD

Unit price

per